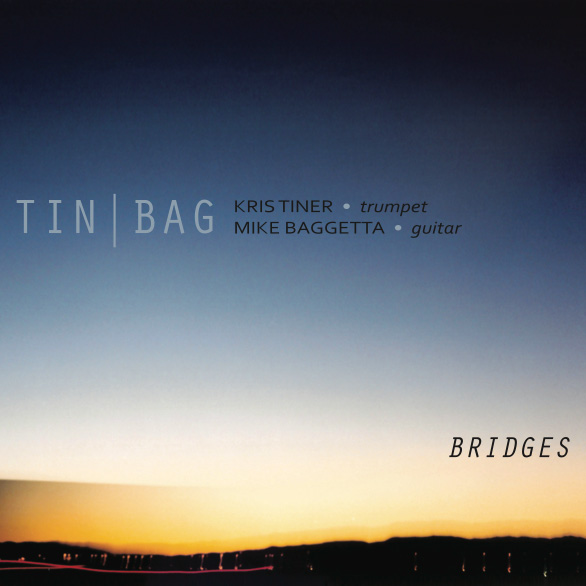 Bridges is now available! This is the third album from Tin/Bag, my ongoing duo project with New York guitarist Mike Baggetta. This music was recorded in January of 2010 at Systems Two in Brooklyn (click here for the recap) and features a suite of five compositions (backstory here) that were recorded with the help of a Subito grant from the American Composers Forum, as well as a couple of new originals by Mike and a cover of Bob Dylan's "Just Like A Woman." Really proud of the music on this one… it's certainly got the most pristine sound of anything I've ever recorded (thanks to the golden ears of engineer Joe Marciano), and it is the most honest and accurate document of this duo to date.
Already we've received some very positive reviews in The New York City Jazz Record (page 29), Stef's Free Jazz Blog, the DMG Newsletter, and Step Tempest.
The entire record is available for streaming, download, or physical purchase at tinbag.bandcamp.com. It's also on iTunes and Amazon.com. We are gearing up for a couple of CD release shows on the East Coast this week – Wednesday night at The Bookmill in Montague, MA and Thursday night sharing a bill with Trio Caveat at the Brooklyn Conservatory of Music (Critics' Pick in Time Out New York). In October, Mike will be on the West Coast for a quick tour with stops in Los Angeles, Bakersfield, Sacramento, and the Bay Area.
Don't miss these… we will be performing music from the album plus a few new compositions and music by Hank Williams, Willie Nelson, and my friend Joe Cunningham (from the Portland-based group Blue Cranes).
For details and updates on all of these concerts check my events page and hook up with Tin/Bag on Facebook.